EDIT MAIN
Metal Trades
---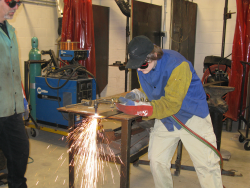 METAL TRADES

This program is designed as a two-year program. Students are welcome to participate in the first year program, but must recognize the second year builds on skills learned during the first year. Students who complete the two-year program may be eligible for credit at some post secondary technical schools through articulation agreements.
Metal Trades I (A Day)
This course combines daily classroom instruction with hands-on use of machine tools and equipment. The course will focus on proper and safe use of all tools and completion of many projects. Students will learn about the different types of welding and fabrication metals through lab exercises as well as projects. Students will experience blue print reading and sketching. Recommended for juniors and seniors.
Metal Trades II (B Day)
Students must meet the prerequisite of successful completion of the Metal Trades I Program. This course is designed for those who are interested in advanced machine practices. The course requires mastery of Metals Trades I skills. Students will learn blue print reading and sketching, advanced Computer Numerical Control (CNC), and advanced alignments. Students will work on complex projects that involve multiple applications of machining and fabrication. Recommended for juniors and seniors.