EDIT MAIN
Commercial Drivers License
---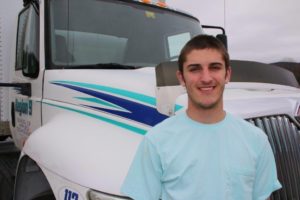 This is a multi-level truck drivers preparation program that trains students on a step-by-step basis to complete written and skill test with the Department of Motor Vehicles. Students are prepared to earn Class B and/or Class A Commercial Drivers License with endorsements for Tank and Air Brakes. Students will also receive a 3 point credit on their drivers license for a defensive driving course.
Students should have mechanical aptitude and ability. Basic math is essential and students should be able to read, write, and interpret instructions. Classroom instruction is 1:00-3:00 p.m., plus driving time.
High School Students
Class B course is a 10-week class. Class B training emphasizes the safe operation of dump and delivery trucks. Topics include: behind the wheel safety, navigation in various weather conditions and terrain, basic control, hazard perception, and vehicle systems. Students are required to have a drug test and have a valid class C Maine driver's license with experience on a manual transmission. Credits- .5
Class A Upon completion students understand the role of the professional Class A driver. Student drivers hone their skills through classroom and yard work. Students are required to have a drug test.
Adult Students for more information please click on the link listed below.