EDIT MAIN
Certified Nursing Assistant
---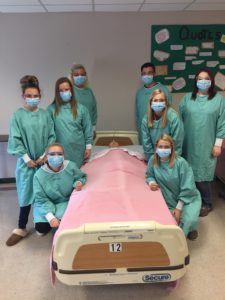 CNA (A OR B DAY)

Student nursing assistants learn the skills necessary for this vocation in a fast paced and fun environment using classroom lessons, hands-on lab training, and actual work in local health care facilities. Upon successful completion of this course, students are provided the opportunity to take the Maine State Nursing Assistant Competency Exam, which is necessary for certification of Nurses Aides in this state. A sincere interest and desire to help others is an important quality for the aspiring CNA.
Due to growing popularity, the program will be repeated both days and is offered for juniors and seniors. CNA training is a valuable stepping-stone for students interested in a health care career. If you are planning to work as a CNA or go on to school to become a registered nurse, paramedic, physical therapist, doctor or any one of the hundreds of health related occupations in between, this class will be a great foundation of skill and knowledge. The first half of the year will focus on understanding human physical and emotional needs and the role of the CNA. Students will learn and practice skills required in the CNA lab.
The second half of the year, students will continue to build their health care knowledge in the classroom and also apply their new skills in a variety of clinical settings such as area nursing homes and the Rumford Community Hospital.
Students are required to meet course requirements including successful completion of reading competency test, maintain a grade point average and attendance consistent with the course requirement, and immunization for specific diseases.