EDIT MAIN
Employability Skills
---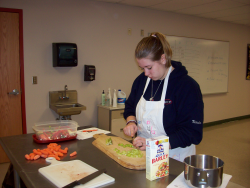 The Region 9 Employability Skills program prepares students for entry-level work or movement into another vocational program. This two-year mainstream program is designed for 9th and 10th grade students who are eligible for Special Needs Services, Section 504 accommodations, or have other needs that cannot be met at the sending school.
First year students receive hands on experience through participation in three one-day job shadows and a community job site. Also, during the first year of participation in the program, students receive instruction in Carpentry, Food Service, Retail, Small Engine Repair, Janitorial/Maintenance, and Worker Orientation Skills. This is accomplished through daily classroom and shop instruction. Instruction focuses on personal and interpersonal skills, safety on the job, workforce basics, self-improvement and supervised crew work.
Second year students work in specific areas of interest and ability through three Community Job Sites. They develop resumes and continue to enhance their Career Portfolios.
Program Objectives:
Through participation in the program, the student should be able to:
Maintain regular attendance and follow rules;
Accurately follow verbal, written and or modeled directions;
Demonstrate knowledge of basic safety rules in the classroom and at various job sites;
Exhibit the necessary social and personal skills to get and maintain sustained job placement;
Identify, operate, and care for the basic tools and equipment used in and perform entry level job skills in the following areas:

Food Service Occupations
Janitorial/Maintenance Occupations
Carpentry Occupations
Small Engine Repair
Sheet Metal Occupations
Retail Occupations
Assessment will be achieved through portfolios, self-evaluations, and job skills competency checklist.