EDIT MAIN
Computer Technology
---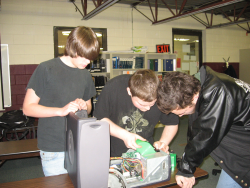 Would you like to learn how to:
Network multiple computers
Install and manage operating systems
Build a computer
Repair and maintain computers
Region 9's Computer Technology program gives students the experience and skills to do these things and more. Using the Industry-Recognized and Internationally-Recognized Cisco Certified Networking Academy (CCNA) program and IT Essentials program, students learn critical computer technician skills through an on-line curriculum and engaging learning labs. The Computer Technology program has articulation agreements with Central Maine Community College, ensuring that students who pass this course with an 85 or higher receive credit at CMCC. Region 9's Computer Technology Program is offered on B Days.
Computer Technology I (A Days)
Computer Technology I is designed to give students a working knowledge of computer hardware and software. The skills taught will include diagnosing and upgrading personal computers, printers, and other system components. The program will incorporate background work for A+ Certification Test. The curriculum includes Cisco's IT Essentials.
Prerequisites: Algebra I
Computer Technology II (B Days)
Computer Technology II is designed to focus on networking. Students will utilize the CCNA Discovery curriculums. CCNA Discovery curriculum teaches networking based on application, covering the types of practical networks students may encounter from simple home or small office networks to more complex models.
Students will have classroom work and hands-on experiences that will prepare them for entry level positions and/or post secondary computer related programs.
Prerequisites: Completion of Computer Technology I