EDIT MAIN
Building Construction
---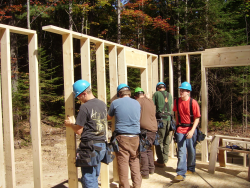 The Building Construction program provides students with construction skills associated with residential and industrial construction. This two year program is divided into Building Construction I and Building Construction II.
BUILDING CONSTRUCTION I – A DAYS
This course includes daily classroom instruction accompanied with shop and field experience in the following areas:
The National Center for Construction Education and Research's CORE CURRICULUM.
Proper and safe use of hand tool, power tools, and machines.
Building materials.
Local building codes and regulations.
Selection and preparation of a building site.
Basic framing, roofing, and siding in the construction of a small wood frame building.
Upon successful completion of Building Construction I, students should be able to plan and build a small frame building, using tools and machines in a safe and proper manner. Students will also receive a performance certificate, and a Core Curriculum completion certificate from the National Center for Construction Education and Research. The class meets on A Days.
Prerequisites – Students must have a desire to learn about building structures, be willing to read, and have an understanding of basic math.
BUILDING CONSTRUCTION II – B DAYS
Students must meet the prerequisite of successful completion of the Building Construction I program. This course will review and reinforce the skills and knowledge developed in B.C. I and will include the O.S.H.A. ten hour safety training, pneumatic tools, career preparation. Students will build a ranch style home in the area. The home is built in relationship with Community Concepts of Norway, ME. Upon successful Completion of Building Construction II the students will be adequately prepared to begin post-secondary education, seek employment in the building industry, or enter the military in a related field. Students will also receive a completion certificate and a 10 hour O.S.H.A. safety card. This class meets on B Days. Prerequisites: Successful completion of Building Construction I